Selenium levels of Estonians
Kantola, Marjatta; Rauhamaa, Päivi; Viitak, T.; Kaasik, T.; Mussalo-Rauhamaa, Helena (2005)
---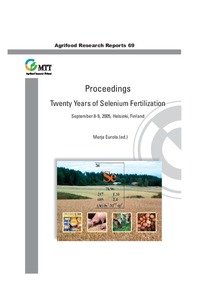 Kantola, Marjatta
Rauhamaa, Päivi
Viitak, T.
Kaasik, T.
Mussalo-Rauhamaa, Helena
Julkaisusarja
Agrifood Research ReportsMaa- ja elintarviketalous
Numero
69
Sivut
s. 99
MTT
2005
Kuvaus
v
ok
Myynti MTT Tietopalvelut 31600 Jokioinen
Tiivistelmä
Both Finland and Estonia belong to the Scandinavian area, surrounding the Baltic Sea, which is regarded to be selenium-deficient (Reimann et al. 2003). During the time when Finnish soil has been supplemented with selenium, the situation in Estonia, in our nearest neighbour in south, has been still untouched . The objective of the present study is to sum up the dietary intake of selenium of Estonian people with the aid of serum selenium concentration. In the 1990 s our research team collected several series of serum specimens from Estonians of different age and living in different geographical areas. In total, selenium concentration was analysed in 434 serum samples by the electro thermal atomic absorption spectrometry. First samples were collected in the beginning of 1990's, and the last ones during the years 2000 and 2001. The findings are gathered up in this study and they are compared to the results found in the literature, especially those of Finns. It is well known that nutrition is the main determinant of serum selenium. We found that the dietary selenium intake among the Estonian people is scarce based on the concentration of selenium in the sera. The range was 31.5-131 µg/L (0.40- 1.66 µmol/l). The selenium contents of Estonians were at the similar level as reported for Finns before the selenium supplementation of fertilisers was carried out in Finland in 1985. Anyhow, the selenium concentrations were strongly dependent of the geographical location of living residences: the highest concentrations were found in the Eastern Estonia. A tentative reference value for omnivorous apparently healthy adults is suggested to range from 0.50 to 2.50 mol/l (Alfthan et al. 1996).