Effect of organic selenium on goose reproduction
Tverdohlebov, A.A.; Papazyan, Tigran A; Davtyan, David A; Surai, Peter F. (2005)
---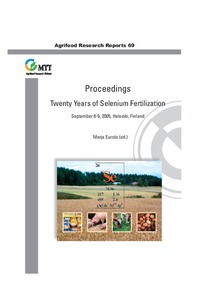 Tverdohlebov, A.A.
Papazyan, Tigran A
Davtyan, David A
Surai, Peter F.
Julkaisusarja
Agrifood Research ReportsMaa- ja elintarviketalous
Numero
69
Sivut
s. 96
MTT
2005
Kuvaus
v
ok
Myynti MTT Tietopalvelut 31600 Jokioinen
Tiivistelmä
For the last few years a great body of scientific information indicates that organic selenium is more effective in transferring to the egg and the developing embryo in comparison to sodium selenite. The aim of the study was to evaluate effects of the replacement of sodium selenite by organic selenium in the form of Sel-Plex (Altech, USA) in goose diets in commercial conditios. In the experiment 5672 Italian White Goose Breeders were divided into 3 groups. Control group was fed on the commercial diet without Se supplementation, second group was supplemented by sodium selenite (0.3 ppm Se) and third group was supplemented with the same amopunt of Se (0.3 ppm) in the form of Sel-Plex during the laying period. Fertility was shown to be 93.4, 96.7 and 97.1%, while hatchability of fertile eggs was 67.2, 71.3 and 75% in the control and experimental groups respectively. The weight of the day-old gooslings was shown to be 93.9, 96.4 and 98.8 g respectively. Therefore, these data indicate that the replacement of the sodium selenite by Sel-Plex could improve reproductive performance of geese in commercial conditions.