Increasing the selenium (Se) content of UK crop plants for human consumption
Johnson, Sarah E.; Bowen, Helen C; Broadley, Martin R; Bryson, Rosie J; Harriman, Miles; Meacham, Mark C; Tucker, Mark; White, Philip J (2005)
---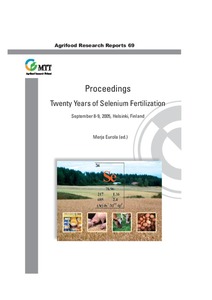 Johnson, Sarah E.
Bowen, Helen C
Broadley, Martin R
Bryson, Rosie J
Harriman, Miles
Meacham, Mark C
Tucker, Mark
White, Philip J
Julkaisusarja
Agrifood Research ReportsMaa- ja elintarviketalous
Numero
69
Sivut
s. 80-81
MTT
2005
Kuvaus
v
ok
Myynti MTT Tietopalvelut 31600 Jokioinen
Tiivistelmä
Selenium (Se) is an essential element for humans. Dietary Se intakes in the UK have fallen from 60 µg d-1 in 1974 to <39 µg d-1 in recent years (reviewed by Rayman, 2002) and this is thought to be due to the replacement of bread wheat sourced from North American wheat (high in Se) with European wheat (low in Se). A concomitant decrease in the blood plasma Se concentrations of the UK population has been recorded. The effects of sub-optimal Se intakes on human health include impaired immune function, increased risk of cancers, increased oxidative stress and reduced fertility. One solution to this problem in the UK might be to adopt a fertilisation strategy based on the Finnish experience (Rayman, 2002). Thus, the primary aim of this (ongoing) study is to determine if the Se content of some commonly-grown UK crops can be increased to levels that would increase dietary Se intakes in the UK, using Se-containing fertilisers. First, the effects of Se fertilisation level on the growth and Se content of crops under field conditions are being determined in three replicate experiments running from 2003 to 2005. Four arable crops (wheat, oilseed rape, maize and soya), and four vegetable crops (potato, carrot, onion and white cabbage) were selected for the experiment because they contribute significantly to the UK diet. Shoot Se contents are being determined by inductively- coupled emission spectrometry (ICP-ES). Preliminary data from 2003 and 2004 will be presented. Second, we are exploring complementary approaches to using Se fertilisers to increase dietary Se intakes. For example, it may be possible to increase crop Se accumulation by manipulating the S supply and/or by selecting or breeding appropriate crop varieties. Thus, in a second series of experiments, a model plant specie Arabidopsis thaliana (Brassicaceae family) is being grown on a nutrient-replete agar supplemented with various concentrations of Na2SeO4. Initally, the effects of interactions between external Se and S on the growth and shoot concentrations of Se and S were determined (White et al., 2004). These studies have indicated that several transport proteins, with contrasting selectivities, mediate the uptake of Se and S into plants, and that the relative activities of these transporters are governed by plant nutritional status. They also indicate that Se toxicity is directly related to the Se:S concentration ratios in the shoot. In other experiments, the interaction between Se fertilisation (E) and genotype (G) is being studied in a population of recombinant inbred lines from an artificial cross between Landsberg erecta (Ler) x Columbia (Col) accessions of A. thaliana. This population was chosen as it has previously been shown to segregate for other mineral composition traits (Payne et al., 2004). Experiments are being conducted in a nutrient- replete agar of contrasting Se compositions, which thus allows E, G and E x G interactions components to be quantified. These experiments will also enable chromosomal loci that impact on shoot Se concentrations to be identified. The use of radiolabelled Na75SeO4 to determine shoot Se content in A. thaliana is facilitating the high-throughput of plant samples demanded by this work.