Relationships among agronomic traits and grain composition in oat genotypes grown in different environments
Peterson, David M.; Wesenberg, Darrell M.; Burrup, Dave A.; Erickson, Charles A. (2004)
---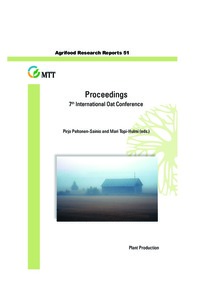 Peterson, David M.
Wesenberg, Darrell M.
Burrup, Dave A.
Erickson, Charles A.
Julkaisusarja
Agrifood Research ReportsMaa- ja elintarviketalous
Numero
51
Sivut
s. 213
MTT
2004
Kuvaus
v
ok
Myynti MTT tietopalvelut
Tiivistelmä
Genotype and environment are major determinants of economically important quantitative traits, which include agronomic characteristics and grain composition. This study examined relationships among agronomic traits and grain composition as influenced by genotype and environment. Thirty-three oat (Avena sativa L.) genotypes were grown in three trials in Idaho in three consecutive years (1999-2001). Yield, heading date, kernel physical characteristics, and groat protein, -glucan, oil, tocols, and avenanthramides concentrations were measured. Analysis of the combined data for all environments showed significant genotypic differences for all traits except avenanthramide 2f. The genotype × trial interaction was significant only for avenanthramides concentration, and the genotype × year interaction was significant for most traits. Most of the variance was associated with genotype for all traits except -tocopherol and the avenanthramides. Principal component analysis showed several close associations among traits: avenanthramides and yield; the tocols, -glucan and protein; the kernel physical characteristics; and oil and heading date. Trait associations differed when calculated from genotype averages as compared to all samples. This reflected a strong environmental influence on some traits. The score plot differentiated Aberdeen trials from those at Tetonia and the 2000 trials from those grown in 1999 and 2001. Biplots for each trait showed the genotype by environment interactions, which differed among the various traits. The results show that knowledge of the relationships among traits and environments can assist breeders in optimizing both agronomic traits and grain composition simultaneously.