Use of biplots in understanding genotype-by-environment interactions to facilitate oat breeding
McElroy, A.R.; Yan, Weikai; Tinker, Nick (2004)
---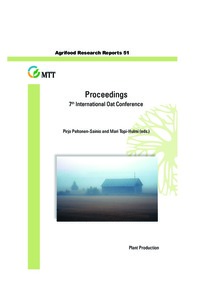 McElroy, A.R.
Yan, Weikai
Tinker, Nick
Julkaisusarja
Agrifood Research ReportsMaa- ja elintarviketalous
Numero
51
Sivut
s. 173
MTT
2004
Kuvaus
v
ok
Myynti MTT tietopalvelut
Tiivistelmä
Multi-environment trials (MET) are essential for genotype evaluation and selection in plant breeding; MET data are expensive and valuable but are often underused. We present a biplot analysis approach that helped in achieving a fuller understanding of MET data in our oat breeding program. This approach is illustrated with data on yield and eight other traits measured on 30 oat lines grown at five locations in Eastern Canada. Three types of biplots were used. (1) GGE biplots for yield, (2) genotype-by-trait biplots, and (3) a covariable-effect biplot, using yield in each of the environments as response variables and genetic values of other traits as interpretative variabes. GGE biplots for yield revealed strong genotype-by-environment (GE) interactions and identified the two locations that contributed most to this interaction. The genotype-by-trait biplots for the two contrasting locations revealed that plant height was most important agronomic parameter related to the GE interaction for yield. It contributed negatively to yield at Woodstock where lodging was an important factor but negatively at Hebertville where it was not. The covariable- effect biplot involving height, days to heading, days to maturity, lodging, test weight, and protein content as interpretative variables for yield explained 88% of the GGE pattern. This biplot summarize the trait-yield relations at different locations and revealed more comprehensively that plant height, along with two genetically correlated traits (days to heading and days to maturity), had the strongest effects on GE interactions for yield. In contrast, test weight was positively associated with yield at all locations. In conclusion, the combined use of these three types of biplots provided a better understanding of oat performance, GE interactions, and potential strategies for oat improvement. Biplot analysis can be easily performed using the userfriendly GGEbiplot software (www.ggebiplot.com).