Apical development of oat
Rajala, Ari; Seppälä, Risto T.; Peltonen-Sainio, Pirjo (2004)
---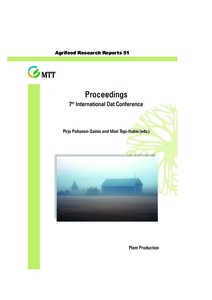 Rajala, Ari
Seppälä, Risto T.
Peltonen-Sainio, Pirjo
Julkaisusarja
Agrifood Research ReportsMaa- ja elintarviketalous
Numero
51
Sivut
s. 166
MTT
2004
Kuvaus
v
ok
Myynti MTT tietopalvelut. Yksikön huom.: KVA
Tiivistelmä
Development of cereal plants progress through set of orderly timed development phases. Rate and timing of these phases and single growth stages are strongly controlled by day length, accumulated temperature and genotype. Awareness of development phases and their potential association with crop responses to management practices (e.g. nitrogen, pesticide applications) and to external stresses, are elemental for understanding their importance to formation of yield potential (Kirby & Appleyard 1984). Oat cultivar Belinda was grown in the greenhouse to visualize the apical development stages and phases described by Åfors et al. (1988). The apical development was monitored frequently and digital images of apex were photographed under stereomicroscope. Accelerated development is characteristics for oat grown in long days. Particularly oat transfers from vegetative to generative phase when only two fully opened leaves are apparent and no tillers have yet emerged. Therefore, main shoot apex is at much more advanced development stage when compared to tiller apices. Hierarchy is also evident within the inflorescence. The development of the oat inflorescence proceeds from the uppermost terminal spikelet downwards to the base of the inflorescence. Within the spikelet, development and cell division of primary grain dominates the development over the secondary grain (Rajala & Peltonen- Sainio 2004). Certain critical apical development phases of oat will be illustrated in the poster. Kirby, E.J.M & Appleyard, M. 1984. Cereal development guide; Rajala, A. & Peltonen-Sainio, P. 2004. Agricultural and Food Science in Finland, in press; Åfors, M. et al. 1988. Stråsädens utveckling I.