Agronomical characterization of selected oat genotypes
Chakroun, M.; Soltani, H.; Youssef, S. Ben; Allagui, M.B. (2004)
---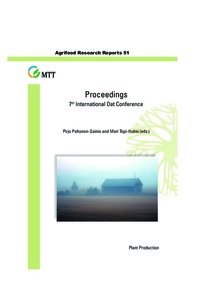 Chakroun, M.
Soltani, H.
Youssef, S. Ben
Allagui, M.B.
Julkaisusarja
Agrifood Research ReportsMaa- ja elintarviketalous
Numero
51
Sivut
s. 160
MTT
2004
Kuvaus
v
ok
Myynti MTT tietopalvelut
Tiivistelmä
Oats, (Avena sativa L.) in pure stand, or associated with vetches are the major grown forages and a main component of crop rotation in Tunisian farming systems. They are mainly grown as a source of harvested fodder (silage or hay) for livestock. Most varieties currently grown in Tunisia are not well adapted to all regions and uses. An oat-breeding program should be able to use the local available and confirmed genetic material in the country. The objective of this study was to evaluate the agronomical characteristics of selected local and introduced oat genotypes. Nine local genotypes collected from farmers in different regions of northern Tunisia: Bezina, Bni-brahim, Maachar, Blelma, Skhira and Borj-dhab from Bizerte; Nefza from Beja; Fernana from Jendouba and Bni-khiar from Le Kef, the commercial variety Fretissa and two experimental lines (Av-9 and Saia) were evaluated for agronomical characters at the experimental station "Koudia". The experimental design was a randomized complete-block with four replications. Each plot consisted of eight rows, 4 meter long with 0.30 m row spacing within-plot row, and 1.20 m between plot spacing. Sowing was carried out on October 22, 2002. Seed was hand-drilled in rows at the rate of 250 viable seeds/m2. Genotypes were ranged in three classes; early heading represented by Fretissa and Av-9 intermediate heading represented by Bni-brahim, Fernana, Nefza, Saia and Bni-khiar while late maturity represented by Blelma, Bezina, Borjdhab, Maacher and Skhira. There were significant differences among genotypes in the characters reported except dry matter (DM) yield. DM yield varied from 12.44 to 15.56 t/ha. Genotypes Bezina, Borj-dhab, Fernana, Nefza, Saia, Av-9 and Bni-khiar had a DM yield superior to the trial mean. 1000 seed weight ranged from 19.30 to 39.22 g. The flag leaf area varied from 6.19 to 27.78 cm2. There was less variation among genotypes in reaction to diseases. Promising genetic material exists and this could be introduced in the crossing bloc. Chakroun, M. & Fathi Gouhis. 1998. Annales de l INRAT. 71:157-173.