Total dietary fibre and beta-glucans in milling fractions of covered and naked oat cultivars and their hypocholesterolemic effects in rats
Pisulewski, Pawel M.; Woloch, Renata; Pisulewska, Elzbieta; Amarowicz, Ryszard (2004)
---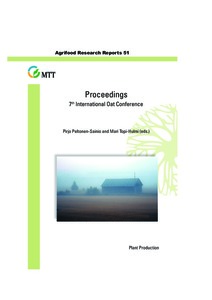 Pisulewski, Pawel M.
Woloch, Renata
Pisulewska, Elzbieta
Amarowicz, Ryszard
Julkaisusarja
Agrifood Research ReportsMaa- ja elintarviketalous
Numero
51
Sivut
s. 135
MTT
2004
Kuvaus
v
ok
Myynti MTT tietopalvelut
Tiivistelmä
Grain processing is accompanied by losses in dietary fibre and other bioactive compounds. The objective was to study the effect of milling on the levels of total dietary fibre (TDF) and â-glucans in milling fractions of covered and naked cultivars of oat and assess hypocholesterolemic effects of these fractions in rats with induced hypercholesterolemia. The material was whole grain of oats (covered cv. Kasztan, dehulled; naked cv. Akt) and their milling fractions: flour and bran. Total dietary fibre (TDF=IDF+SDF) and â-glucans were determined using the Megazyme assay kits. Three groups of Wistar rats (BM 100 ± 3 g), 42 rats each, were used in three 21d consecutive experiments. The animals were fed hypercholesterolemic (1% cholesterol) diets (Pisulewski et al. 2002), formulated with increasing amounts of TDF (Exp.1: control vs. whole grain 2, 4, 6%; Exp.2: control vs. flour 1, 2, 3%; Exp.3: control vs. bran 2, 4, 6%). The animals were bled to determine serum total cholesterol (TC), LDL-cholesterol (LDL-C), HDL-cholesterol (HDL-C) and triacylglycerols (TG). Processing of oat grain (covered and naked forms) results in substantial losses of TDF, including serum cholesterol-lowering â- glucans, thus resulting in TDF- and â-glucan-reach bran and functionally inferior flour. Consequently, only TDF- and â-glucan-reach whole grain and bran exerted hypocholesterolemic effects in rats. No such effects were noted for flour fraction. Pisulewski, P.M., et al. 2002. Polish Journal of Food and Nutrition Sciences 52: 63-66.