Probiotic Bifidobacterium in a dry oat-based matrix: an in vivo study
Ouwehand, Arthur C.; Kurvinen, Teija; Rissanen, Päivi (2004)
---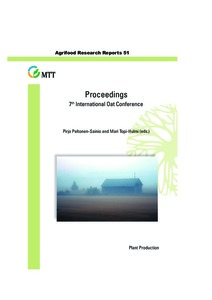 Ouwehand, Arthur C.
Kurvinen, Teija
Rissanen, Päivi
Julkaisusarja
Agrifood Research ReportsMaa- ja elintarviketalous
Numero
51
Sivut
s. 104
MTT
2004
Kuvaus
v
ok
Myynti MTT tietopalvelut
Tiivistelmä
Probiotics are commonly included in dairy products. These products require cold storage and transportation which limits their use. We have investigated the inclusion of a probiotic Bifidobacterium lactis strain in a dry food matrix, an oat-based cereal bar, and its detection in faeces after consumption of this product. From four of the nine subjects whom consumed the cereal bar for a week, B. lactis could be identified in the faeces using a culture independent technique (fluorescent in situ hybridisation). This detection frequency was not different from earlier reports where B. lactis was consumed in fermented or non-fermented dairy products. One week after cessation of B. lactis feed-ing, it could be identified in the faeces of five of the nine subjects. This de-tection frequency is better than most other studies where B. lactis had been included in dairy products. The inclusion of B. lactis in an oat-based cereal bar appears to be equally well or better than inclusion in a dairy product and may therefore provide an alternative means of administering probiotics. Ouwehand, A.C. et al. 2004. International Journal of Food Microbiology. In press.