Analysis of resistance and susceptibility to barley and cereal yellow dwarf virus
Anderson, Joseph M.; Balaji, Boovaraghan; Ohm, Herbert W. (2004)
---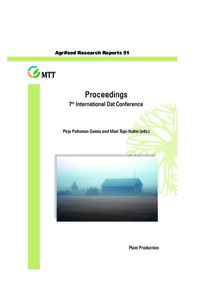 Anderson, Joseph M.
Balaji, Boovaraghan
Ohm, Herbert W.
Julkaisusarja
Agrifood Research ReportsMaa- ja elintarviketalous
Numero
51
Sivut
s. 87
MTT
2004
Kuvaus
v
ok
Myynti MTT tietopalvelut
Tiivistelmä
Barley yellow dwarf virus and Cereal yellow dwarf virus (YDV) are the most endemic and severe viral diseases in cereal crops and can cause significant yield losses. This study was undertaken to isolate and characterize genes that may be involved in YDV susceptibility in oat and resistance in the wheatgrass, Thinopyrum intermedium. Suppressive subtractive hybridization (SSH, Diatchenko et al. 1996) and mirror orientation selection (MOS, Rebrikov et al. 2000) were combined with differential hybridization to isolate genes whos expression changes when oat and wheatgrass were inoculated with YDV. Expression of these genes was quantified using real-time PCR. Approximately 90% and 88% of the putative differentially expressed genes selected by differential hybridization from the wheatgrass and oat libraries, respectively were confirmed by real-time PCR. In the resistant wheatgrass- YDV interaction, a number of defense response and basic metabolic genes were up-regulated with fold changes ranging from 2 to 1,782. The expression of these genes either did not change or was suppressed in susceptible inoculated oat. The differences in the wheatgrass and oat gene expression profiles are beginning to delineate the significant variation in plant responses to YDV. Elucidating the function of these differentially expressed genes will provide insights into YDV resistance and susceptibility mechanisms and may lead to novel strategies for protecting small grain crops against YDV. Diatchenko, L. et al. 1996. Proceedings of National Academy of Sciences 93: 6025-6030.; Gorlach, J. et al. 1996. Plant Cell, 8: 629-643; Livak, K.J. & Schmittgen, T.D. 2001. Methods, 25: 402-408; Rebrikov, D.V. et al. 2000. Nucleic Acids Research 28:E90.