Characterisation of European oat landraces for agronomical, morphological and quality data: Assessment of genetic diversity and link with geographical origin
Koenig, Jean; Germeier, C.U.; Frese, L.; Katsiotis, Andreas; Legget, Mike; Loskutov, Igor; Bondo, L.; Ottoson, F.; Veteläinen, Merja (2004)
---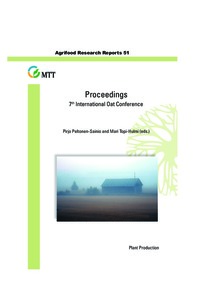 Koenig, Jean
Germeier, C.U.
Frese, L.
Katsiotis, Andreas
Legget, Mike
Loskutov, Igor
Bondo, L.
Ottoson, F.
Veteläinen, Merja
Julkaisusarja
Agrifood Research ReportsMaa- ja elintarviketalous
Numero
51
Sivut
s. 39
MTT
2004
Kuvaus
v
ok
Myynti MTT tietopalvelut
Tiivistelmä
An evaluation was carried out on a set of European oat landraces issued from European countries with funds from EU through GENRES 99-106 Program. The aim of this evaluation is to get the most complete information on these landraces in order to update the European oat database. Data from years 2001 and 2002 (642 accessions and 18 checks) were collected and showed an important diversity for yield and yield components (mainly 1000 grain weight), tolerance to crown rust (under field and artificial tests) , powdery mildew and lodging. Diversity of these landraces has also been described from the morphological characters. For quality traits, protein content level of the landraces ranged from 9% to over 19%. Correlations have been determined between agronomic traits and protein content. Links between some traits and geographical origin have been examined. Due to the availability of these data, some landraces might be involved in further breeding programs.