Environmental Services provided by the Nordic-Baltic Forests. Extended abstracts of the CAR-ES network meeting in Finland 20. -22.10.2014
---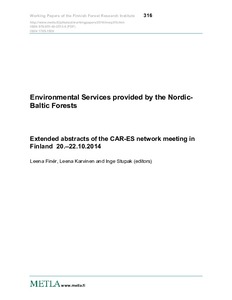 Toimittajat
Finér, Leena
Karvinen, Leena
Stupak, Inge
Julkaisusarja
Metlan työraporttejaWorking Papers of the Finnish Forest Research Institute
Numero
316
Sivut
53 p.
Finnish Forest Research Institute Metsäntutkimuslaitos
2014
Julkaisun pysyvä osoite on
http://urn.fi/URN:ISBN:978-951-40-2513-6
Tiivistelmä
CAR-ES (Centre of Advanced Research on Environmental Services from Nordic Forest Ecosystems, 2011 2015) is an open network that brings together Nordic and Baltic forest researchers. The CAR-ES network aims at providing scientific knowledge on the impacts of forest management on major environmental services for decision making within the forest sector. The main environmental services addressed are: Carbon sequestration, Water quality, Biodiversity, Soil quality.CAR-ES organizes meetings, workshops and conferences and the second meeting in 2014 was held in Finland, at the premises of Metla Vantaa Unit. The meeting discussed the issues related to the main environmental services covered by CAR-ES, work on the ongoing subprojects and plannned the final conference as well as the future of the network. The workshop was attended by 30 scientists representing the Baltic and Nordic countries.The extended abstracts of the presentations are published in this paper.CAR-ES is funded by the Nordic Forest Research (SNS) as one of its Virtual Centres of Advanced Research.