Modeling energy and climate policy in the Finnish forest sector
Hetemäki, Lauri; Kangas, Hanna-Liisa; Laturi, Jani; Lintunen, Jussi; Uusivuori, Jussi (2010)
---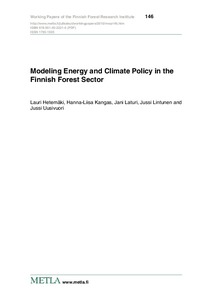 Hetemäki, Lauri
Kangas, Hanna-Liisa
Laturi, Jani
Lintunen, Jussi
Uusivuori, Jussi
Julkaisusarja
Metlan työraporttejaWorking Papers of the Finnish Forest Research Institute
Numero
146
Sivut
78 p.
Finnish Forest Research Institute Metsäntutkimuslaitos
2010
Julkaisun pysyvä osoite on
http://urn.fi/URN:ISBN:978-951-40-2221-0
Tiivistelmä
The development and structural changes that the forest sector in Finland is going through emphasizes the need to modify the forest policies in Finland. A shift from a focus on timber production and traditional forestry products toward new products as well as new services is called for. New services include the climate and bioenergy potential services, landscape, travelling and recreation, and ecological services. This report describes the structural context and principles of an ongoing modeling work in Metla. This work is part of the research project The Future Development of the Finnish Forest Sector, which is sponsored by Metla and Metsämiesten Säätiö Foundation. The purpose of the modeling work is to build a policy simulation model to be able to analyze policies relevant for the Finnish forest sector.