MITMIOMBO Management of Indigenous Tree Species for Ecosystem Restoration and Wood Production in Semi-Arid Miombo Woodlands in Eastern Africa. Proceedings of the First MITMIOMBO Project Workshop held in Morogoro, Tanzania, 6th 12th February 2007
---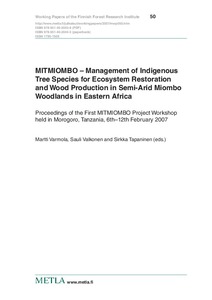 Toimittajat
Varmola, Martti
Valkonen, Sauli
Tapaninen, Sirkka
Julkaisusarja
Metlan työraporttejaWorking Papers of the Finnish Forest Research Institute
Numero
50
Sivut
129 p.
Finnish Forest Research Institute Metsäntutkimuslaitos
2007
Julkaisun pysyvä osoite on
http://urn.fi/URN:ISBN:978-951-40-2043-8
Sisällysluettelo
Esitykset erillisinä 17 tiedostona
Tiivistelmä
MITMIOMBO Management of Indigenous Tree Species for Ecosystem Restoration and Wood Production in Semi-arid Miombo Woodlands in Eastern Africa is a two-year project partly funded by the European Commission (FP6, INCO/SSA). It has six participant organizations: Finnish Forest Research Institute (METLA; FIN) (Coordination), University of Joensuu (UJOE; FIN), Swedish University of Agricultural Sciences (SLU; SWE), Sokoine University of Agriculture (SUA; TNZ), Tanzania Forestry Research Institute (TAFORI; TNZ), Tanzania Association of Foresters (TAF; TNZ). The MITMIOMBO project is a small-scale effort to explore and experiment with tools that forest research can provide for development and extension efforts in miombo woodlands. This target is pursued through joint application of state-of-the-art research methods and the interaction and dissemination of knowledge with researchers, professionals and local stakeholders for addressing management challenges involving indigenous stands.The project commenced on November 1, 2006. The first project meeting was held 6th 12th February 2007, in Morogoro, Tanzania. A major part of this meeting consisted of presentations by participants. This publication is a compilation of papers presented at the meeting. Together they are intended to provide the reader with a compact overview to the status of the management of miombo woodlands in Tanzania and beyond, and to research methodologies relevant to miombo tree stands characterized by complexity of structures and dynamics.