Effect of strain, wood substrate and cold treatment on the yield and β-glucan content of Ganoderma lucidum fruiting bodies
Cortina-Escribano, Marta; Pihlava, Juha-Matti; Miina, Jari; Veteli, Pyry; Linnakoski, Riikka; Vanhanen, Henri (2020)
---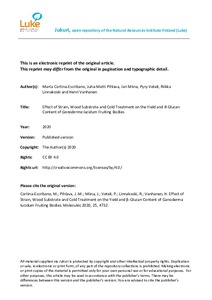 Cortina-Escribano, Marta
Pihlava, Juha-Matti
Miina, Jari
Veteli, Pyry
Linnakoski, Riikka
Vanhanen, Henri
Julkaisusarja
Molecules
Volyymi
25
Numero
20
Sivut
13 p.
MPDI AG
2020
Julkaisun pysyvä osoite on
http://urn.fi/URN:NBN:fi-fe2020101984316
Tiivistelmä
Wood residues from forestry industries can be potential raw materials for specialty and
edible mushroom production. The aim of this study was to evaluate the suitability of wood
residues for the cultivation of Ganoderma lucidum originating from boreal forests. The substrates tested included sawdust and wood chips of Betula spp., Populus tremula, Picea abies, Pinus sylvestris and Larix sp. The suitability of the substrates and the ability of the strains to develop fruiting bodies and produce β-glucan were evaluated. Fruiting body formation was supported by applying two different cold shock treatments to substrate bags. The highest yields were observed with MUS192 strain and Betula spp. and P. tremula wood-based substrates. β-Glucan content in the fruiting bodies was highest with the MUS75 and P. tremula wood-based substrate. Based on these findings, the combination of P. tremula wood residues and the MUS192 strain is proposed to enhance the yieldand β-glucan content of the fruiting bodies. A cold treatment of 5 °C is suggested to induce
primordia formation and to increase fruiting probability. This is the first time that strains of G. lucidum originating from boreal forests have been compared and successfully cultivated simulating commercial indoor cultivation.