Monitoring system LesEGAIS for timber trade in Russia : Yedinaya gosudarstvennaya avtomatizirovannaya informatsionnaya sistema uchyota drevesiny i sdelok s ney – LesEGAIS
Karvinen, Sari (2019)
---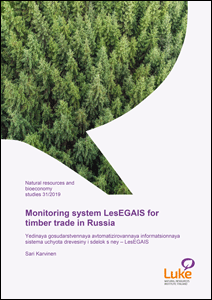 Julkaisusarja
Natural resources and bioeconomy studies
Numero
31/2019
Sivut
21 p.
Natural Resources Institute Finland (Luke)
2019
© Natural Resources Institute Finland (Luke)
Julkaisun pysyvä osoite on
http://urn.fi/URN:ISBN:978-952-326-757-2
Tiivistelmä
Illegal logging is a recognized problem in the Russian forest sector. Experts have estimated that the volume of illegal logging amounts to 10–35 per cent of total logging volume, while official reports claim that the share is less than a per cent. In 2013, the Russian Forest Act was amended and an electronic timber trade monitoring system, "Yedinaya gosudarstvennaya avtomatizirovannaya informatsionnaya sistema uchyota drevesiny i sdelok s ney" (LesEGAIS), was established. The goal was to entirely eliminate illegal timber from the Russian market. In addition, new requirements for measuring and transporting timber were laid down. Sawn timber was added to the list of monitored goods in 2017.
In accordance with the new requirements specified in the Forest Act, all timber has to be measured before transporting it away from the forest. Valuable hardwood that is exported abroad has to be labelled by the piece, and a mandatory cargo record book has to be kept for timber transports. All timber trade has to be reported by filling out a timber trade notification in the LesEGAIS system. Also the actual delivery volumes are entered there.
LesEGAIS system includes information on companies who perform logging and timber trade in Russia. Authorities enter information on logging rights, such as forest lease agreements and stumpage sale agreements, in the system. Companies fill out forest use declarations and reports, which are then approved by authorities in the system. In addition, the companies enter information on their timber trade and valuable hardwood export in LesEGAIS.
When users are logged in to LesEGAIS, they can view all of the agreements, reports and notifications entered by their company. The section that is open to all users includes information on logging rights and approved felled volumes, timber trade agreements and labelled hardwood units. The data available in the system can be used to verify logging rights and ownership rights. The system does not include cargo record books of timber transports or information on timber storages, so currently, it cannot be used for monitoring individual lots of timber.
The aim is to adopt tighter control on timber trade monitoring over the next few years. Plans are in place to complement the LesEGAIS system with electronic cargo record books for timber transports and with timber storage registers. Additional plans include monitoring the movements of timber trucks and forest machines via a satellite tracking system.