Cryopreservation of encapsulated Ribes meristems and variation between accessions within a cultivar
Grout, Brian W.W; Green, J.E.; Benson, E.E; Harding, Keith; Johnston, Jason W (2008)
---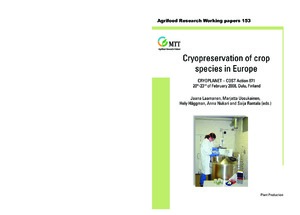 Grout, Brian W.W
Green, J.E.
Benson, E.E
Harding, Keith
Johnston, Jason W
Julkaisusarja
Agrifood Research Working papersMTT:n selvityksiä
Numero
153
Sivut
s. 51
MTT
2008
Kuvaus
v
ok
yynti MTT, Tietopalvelut 31600 Jokioinen
Tiivistelmä
In vitro cultures of crop plants are used to complement field collections and reduce the potential impact of biotic and abiotic hazards as well as . Maintaining in vitro collections can reduce this risk and has been used to producing disease-free plants. However, previous studies have shown that, in some instances, somaclonal variation has occurred to produce aberrant regenerated plants (1,3). Such a risk is dramatically reduced by cryopreservation of excised meristems from in vitro culture, that can be used for subsequent plant proliferation. Latterly, the encapsulation/dehydration technique, borrowing the basics of synthetic seed technology, has significantly improved the success of this strategy for cryopreservation (2). In this study, using in vitro-grown Ribes nigrum (blackcurrant) meristems, the extent of injury caused by the individual, preparative steps of the encapsulation/cryopreservation procedure have been documented. For the three accessions investigated the excision, desiccation and encapsulation steps had a relatively low impact on survival and the terminal, freeze/thaw step was the most injurious. The water content of the bead immediately before freezing is critical to success and the drying temperature used to determine this has to be carefully chosen to avoid underestimation. To be of optimal value for the conservation of genetic diversity the encapsulation cryopreservation technique has to be robust and readily transferable between laboratories. In this study two accessions of the same cultivar were investigated, one with a prehistory of 9 years culture in vitro whilst the other had only been cultured for 1 year prior to study. Clear differences in biochemical properties were seen between the accessions, together with a markedly different response to cryopreservation. Frozen-thawed plants of the two accessions continue to show significant differences, including disease resistance, after three field seasons. The issues raised by this study concerning the significance of the in vitro history of material prior to selection for cryopreservation will be discussed.