Monitoring clonal stability with retrotransposon-based markers
Antonius, Kristiina; Rokka, Veli-Matti; Tenhola-Roinen, Teija; Gajdosová, Alena; Kalendar, Ruslan; Schulman, Alan H. (2008)
---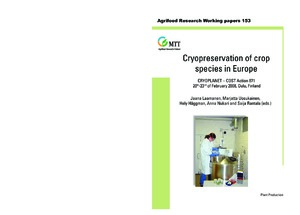 Antonius, Kristiina
Rokka, Veli-Matti
Tenhola-Roinen, Teija
Gajdosová, Alena
Kalendar, Ruslan
Schulman, Alan H.
Julkaisusarja
Agrifood Research Working papersMTT:n selvityksiä
Numero
153
Sivut
s. 50
MTT
2008
Kuvaus
v
ok
Myynti MTT, Tietopalvelut 31600 Jokioinen
Tiivistelmä
Retrotransposons elements constitute a major component of dispersed repetitious DNA in all eukaryotic genomes. Retrotransposons are largely quiescent, but activated by stresses, such as wounding, pathogen attack and cell culture (7). The activation of retrotransposons has been shown to be accompanied by for example cytosine demethylation (3). Several retrotransposon-based marker systems have been developed that reveal insertional polymorphisms generated by the transposition of the retrotransposons. These have been found useful for linkage, evolution and genetics studies (4). Retrotransposon marker systems generally rely on PCR to generate fingerprints. The marker systems generate fingerprints, or multilocus profiles, for the members of given families of retrotransposons. The inter-retrotransposon amplified polymorphism (IRAP) technique (1) generates PCR products from retrotransposons inserted near enough to each other to allow efficient amplification. The IRAP amplification primers are commonly designed to match segments of LTRs conserved within element families. REMAP, retrotransposon-microsatellite amplified polymorphism (1), uses one LTR primer, together with a simple sequence repeat primer with one additional base at the 3 end of simple sequence repeat (SSR) primer (for example: 5 (CA)9G-3 ). The SSAP method combines AFLP analysis with retrotransposons (2,6), i.e. measures the distance between a retrotransposon insert and a restriction site. Whereas retrotransposon insertions are only heritable in sexually propagated plants if the insertion event occurs in a cell that gives rise to a gamete, insertions in somatic tissues can be passed along in vegetatively propagated crops. Other genetic rearrangements in somatic nuclei that affect the position of priming sites for markers would likewise be detectable. Using retrotransposon markers in IRAP analysis, we have observed occasional clonal changes in several different species, for example blueberry and apple. However, the most promising method of utilizing retrotransposon based markers for detecting intra-clonal variation is the SSAP analysis (5).