Transgenic approach for basic research in cryopreservation - problems and chances
Kiesecker, H.; Heine-Dobbernack, E.; Schumacher, Heinz Martin (2008)
---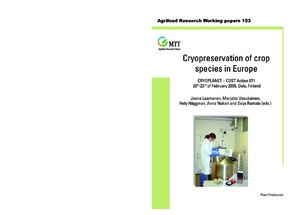 Kiesecker, H.
Heine-Dobbernack, E.
Schumacher, Heinz Martin
Julkaisusarja
Agrifood Research Working papersMTT:n selvityksiä
Numero
153
Sivut
s. 18
MTT
2008
Kuvaus
v
ok
Myynti MTT, Tietopalvelut 31600 Jokioinen
Tiivistelmä
In many fields of basic physiological research molecular methods are applied to create model systems. For the investigation of basic mechanisms of cryopreservation such methods have rarely been used so far. A possible approach for cryopreservation research could be the over-expression of a protein providing a specific physiological trait in cells or plants and the further analysis of their behaviour in different cryopreservation procedures. Although this approach offers a lot of chances certain problems arise especially when cell cultures are used. One of the problems is the monitoring of protein expression and the correlation with the desired physiological trait. To allow a simple and easy detection of gene expression transformation vectors have been constructed at DSMZ linking a target gene by a viral IRES element to a reporter gene. Such vector achieves a co-expression of both genes forming independent proteins instead of creating a fusion protein. Therefore the target gene can exert its physiological function and this function can be monitored directly by measuring the marker gene expression. Although co-expression of reporter and target gene is achieved the choice for a suitable marker gene in such vector systems is a problem. The luciferase gene provides the highest sensitivity but it also needs ATP as co-substrate. Green fluorescent protein on the other hand is easily detected and even quantified in each specific cell but is less sensitive and may accumulate in the cells. Cell cultures normally show a certain degree of genetic and physiological variation among the single cells. Our previous results show that cell selection processes during the regrowth period of a cryopreservation experiment can not be excluded and may aggravate the interpretation of results. Also the comparison of transgenic and wild type cell lines may be difficult. Apart from the desired physiological effect of the transgene other parameters may be different between transgenic and wild type cells. At DSMZ, for cryopreservation experiments with potato cells, we therefore started to characterize physiological aspects of osmotic tolerance of cell lines derived from different potato cultivars before starting transformation work. The data acquired with different un-transformed cultures should broaden the basis for a comparison with transformed cells. At present transgenic potato cell lines have been obtained from the cultivar Desire which probably show increased osmotic and salt tolerance. Transformed Desiree plants presently regenerated will allow a comparison of results obtained with plants and cell lines. Although problems have to be solved transformed cells lines may offer the chance to investigate the importance of certain physiological traits in specific steps of cryopreservation procedures or the role of certain proteins for providing cryotolerance. Furthermore the natural variation occurring in cell lines may be useful to investigate selection processes due to cryopreservation.