Temporal population genetic dynamics of Phytophthora infestans in Great Britain
Zhan, Jiasui; Lees, Alison K; Shaw, David; Cooke, David E.L. (2007)
---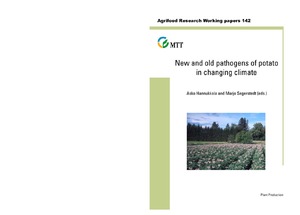 Zhan, Jiasui
Lees, Alison K
Shaw, David
Cooke, David E.L.
Julkaisusarja
Agrifood Research Working papers
Numero
142
Sivut
s. 18
MTT
2007
Kuvaus
v
ok
Myynti MTT Tietopalvelut 31600 Jokioinen
Tiivistelmä
Knowledge on temporal population genetic dynamics and the genetic mechanisms driving these dynamics are important in order to understand the evolutionary potentials of plant pathogens over changing environments. We sampled more than 1400 isolates of Phytophthora infestans from Great Britain between 2003 and 2006 and assayed these isolates with 11 molecular markers (SSR) and a phenotypic trait (mating type). We found a significant change in the population genetic structure of the GB population of P. infestans over the four years: 1) the frequency of the A2 phenotype increased from less than 0.1 in 2003 to more than 0.5 in 2006; 2) only five out of more than 140 genotypes were detected in all four years and a new genotype, which was first detected in 2005, accounted of more than a quarter of the 2006 population; 3) allele frequency in the majority of the 11 SSR loci changed significantly across the survey years and there was evidence of directional increases in genetic differentiation over time. Further analysis revealed that the hypothesis of Hardy-Weinberg equilibrium was rejected in all four populations, suggesting that P. infestans in GB exists in a non-random, or asexual state. The implication of our findings in the adaptation of P. infestans to changing environments will be discussed.