The association of Glutathione Peroxidase 1 codon 198 polymorphism with prostate cancer risk and progression
Cooper, Matthew; Green, Fiona R.; Rayman, Margaret (2005)
---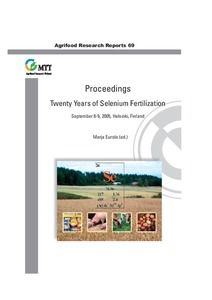 Cooper, Matthew
Green, Fiona R.
Rayman, Margaret
Julkaisusarja
Agrifood Research ReportsMaa- ja elintarviketalous
Numero
69
Sivut
s. 100
MTT
2005
Kuvaus
v
ok
Myynti MTT Tietopalvelut 31600 Jokioinen
Tiivistelmä
Higher dietary selenium intake has been shown to reduce cancer incidence in numerous studies suggesting a possible role for selenoproteins in cancer incidence and progression. Glutathione peroxidase 1 (GPx1) is the cytosolic form of a larger family of selenium dependant, glutathione peroxidases. These enzymes detoxify hydrogen peroxide and its organic hydroperoxidases and are a defence against cellular oxidative damage, a major factor in oncogenesis. A single nucleotide polymorphism (SNP) results in the substitution of proline with leucine at codon 198. Proline is known to cause a kink in the secondary structure of polypeptides and therefore this SNP may affect the functionality of GPx1. The rare allele has been associated with an increase in risk of breast (OR 1.906 95% C.I. 1.016-3.576), lung (OR 2.3 95% C.I. 1.3- 1.8) and bladder cancer (OR 2.63 95% C.I. 1.45-4.75). We determined genotypes for the Pro/Leu198 polymorphism using a TaqMan allelic discrimination assay in the CAPS study (CAncer Prostate in Sweden) of 1400 prostate cancer cases and 800 cancer-free controls. The control population was in Hardy Weinberg Equilibrium and data analysis was undertaken using SPSS, adjusting for age and geographical location. No association was found between the Leu allele and prostate cancer risk but we are investigating whether it has an affect on metastasis by assessing the impact on clinical markers of severity. Furthermore, in this population of relatively low selenium status (mean ±SD plasma selenium 75µg/L ± 15 in 50 controls) the available selenium may be prioritised for the synthesis of more important selenoproteins, thus diminishing the effect of the Pro/Leu198 polymorphism.