Inheritance of stem rust resistance in an Amagalon-derived oat line
Sebelius, Angela; McMullen, Michael S. (2004)
---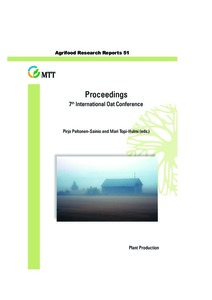 Sebelius, Angela
McMullen, Michael S.
Julkaisusarja
Agrifood Research ReportsMaa- ja elintarviketalous
Numero
51
Sivut
s. 181
MTT
2004
Kuvaus
v
ok
Myynti MTT tietopalvelut
Tiivistelmä
Few effective genes are available that confer resistance to prevalent North American races of oat stem rust incited by Puccinia graminis Pers.: Pers. f. sp. Avenae Eriks. and E. Henn. Lines derived from Amagalon, a synthetic hexaploid line developed from a cross between Avena longiglumis Dur. (2n=14) and A. magna Murphy et Terrell (Rothman 1984) express resistance to stem rust race NA67. NA67 has been increasing in prevalence in North America and nearly all cultivars grown in the northern plains of North America are susceptible to this race. A breeding line, ND990232, has good agronomic characteristics and stem rust resistance derived from Amagalon. To determine the inheritance of stem rust resistance we evaluated the F2 segregation of resistance to NA67 in nine populations derived crosses of ND990232 and one other Amagalon-derived line, crossed with NA67 susceptible genotypes. Adhikari and McIntosh (2001) suggested stem rust resistance derived from Amagalon is very similar to pg-a. Seedling resistance to NA67 of F1 progeny of ND990232 crossed with a line with pg-a stem rust resistance was evaluated to determine the allelic relationship of Amagalon-derived stem rust resistance with resistance conferred by pg-a. Nine segregating F2 populations of 100 plants each, produced from crosses involving Amagalonderived NA67 resistant lines with diverse NA67 susceptible lines, were evaluated in the seedling stage after inoculation with NA67. Eight of the populations fit a 3 resistant (R):13 susceptible (S) ratio, but did not fit 1 R:3 S or 1 R:15 S ratios. Homogeneity of error allowed combining the populations and the combined population fit a 3:13 ratio but did not fit other tested ratios. The data suggest the Amagalon resistance is conferred by one dominant and one recessive gene through dominant suppression epistasis. F2:3 lines derived from the seedlings evaluated in the greenhouse were evaluated in the field and verified the results obtained in seedling tests. While resistance of pg-a is conferred by the presence of at least two homozygous recessive genes (Erpelding 1987), resistance of Amagalon-derived lines appears to involve a dominant gene. The infection type of F1 plants produced from crosses of ND990232 with a line with the pg-a complex, ND873126, was inconclusive in determining the allelic relationship of pg-a and Amagalon-derived resistance. The F2 will be evaluated to clarify the relationship of pg-a and Amagalon-derived resistance. Adhikari, K.N. & R.A. McIntosh. 2001. Australian Journal of Agricultural Research 52:1011-1016; Erpelding, J. 1987. Inheritance of stem rust resistance in ND811386. M.S. thesis. North Dakota State University, Fargo; Rothman, P.G. 1984. Crop Science 24:1217-1218.