Does partial resistance exert selection on oat crown rust populations?
Carson, Marty; Stuthman, Deon (2004)
---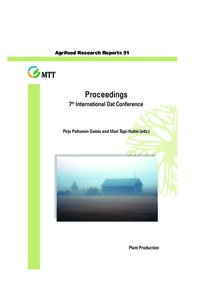 Carson, Marty
Stuthman, Deon
Julkaisusarja
Agrifood Research ReportsMaa- ja elintarviketalous
Numero
51
Sivut
s. 179
MTT
2004
Kuvaus
v
ok
Myynti MTT tietopalvelut
Tiivistelmä
Partial resistance to plant disease is often assumed to be durable, presumably because it exerts little or no selection pressure on the pathogen population. We tested this assumption in the field using partial resistance to crown rust of oat. Oat crown rust was collected from field plots of partially resistant oat cultivars MN841801 and Portage (Leonard, 2002), as well as plots of the susceptible cultivar Starter and advanced breeding lines from selected crosses. Plots were inoculated at the boot stage with a diverse bulk population of P. coronata collected from the Minnesota buckthorn nursery the previous season. Single pustule isolates from these collections and the original bulk population used to inoculate plots were tested for virulence on differential varieties used in our annual rust surveys (Chong et al, 2000). Virulence frequencies in the collections from the partially resistant cultivars and the breeding selections were compared with those in the original bulk as well the collection from Starter. In 2002, we saw no selection for increased virulence to any of the Pc genes in the differential set when collections from MN841801, Portage, or Starter were compared with the bulk population. This suggests that the partial resistance does not exert any strong selection on the crown rust population. However, we did see strong selection for increased virulence to Pc 48 and Pc 52 in collections from breeding selections derived from crosses involving the cultivar Leonard, possibly indicating that these genes were present in those breeding materials. Results from experiments conducted in 2003 will also be presented. Leonard, K.J. 2002. Plant Disease 86:593-598; Chong, J., et al. 2000. Plant Disease 84:580-585.