The EUROPEAN AVENA DATABASE (EADB) - towards an expert system for Avena genetic resources
Germeier, C.U.; Frese, L.; Katsiotis, A.; Koenig, J.; Legget, M.; Loskutov, I.; Ottoson, F.; Veteläinen, M. (2004)
---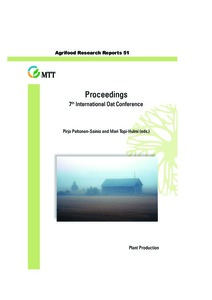 Germeier, C.U.
Frese, L.
Katsiotis, A.
Koenig, J.
Legget, M.
Loskutov, I.
Ottoson, F.
Veteläinen, M.
Julkaisusarja
Agrifood Research ReportsMaa- ja elintarviketalous
Numero
51
Sivut
s. 143
MTT
2004
Kuvaus
v
ok
Myynti MTT tietopalvelut
Tiivistelmä
The EADB is one of 56 central crop databases initiated within the framework of the European Cooperative Programme for Crop Genetic Resources Networks (ECP/GR). It collects data of more than 30.000 genebank accessions: wild species (2843 accessions), landraces and traditional cultivars (7405 accessions) and advanced cultivars. Some accessions date back to the first half of the nineteenth century, more than 5000 to before 1930. The information system, which started as a list of passport data has been developed as a relational database assisting search of duplication in collections and covering further data: characterisation and evaluation data, marker data and data on identified genes. Most of these data result from an EU-funded collaborative project on European oat land races (GENRES 99-106) and contributions by VIR supported by a ECP/GR funded project. A new online interface allowing combined queries on passport, characterisation and evaluation data has been developed. It provides addresses of holding institutions, passport data, observation data and respective experimental and methodological information. All results can be downloaded and easily imported into MS Excel. It will be available at http://www.genres.de/eccdb/avena/.