Polyphenolics in milling fractions of grain of covered and naked oat cultivars and their antioxiodant effects in rats
Pisulewski, Pawet M.; Woloch, Renata; Pisulewska, Elzbieta; Amarowicz, Ryszard (2004)
---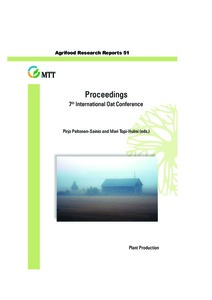 Pisulewski, Pawet M.
Woloch, Renata
Pisulewska, Elzbieta
Amarowicz, Ryszard
Julkaisusarja
Agrifood Research ReportsMaa- ja elintarviketalous
Numero
51
Sivut
s. 134
MTT
2004
Kuvaus
v
ok
Myynti MTT tietopalvelut
Tiivistelmä
Grain processing is accompanied by losses in dietary fibre and other bioactive compounds. The objective was to study the effect of milling on the levels of total polyphenols in milling fractions of covered and naked cultivars and assess antioxidant potential of these fractions in vitro and in rats with induced hypercholesterolemia. The material was whole grain of oats (covered cv. Kasztan, dehulled; naked cv. Akt) and their milling fractions: flour and bran. Total polyphenols were extracted and determined to measure total radical scavenging activity (RSA%) (Pekarinen et al. 1999). Three groups of Wistar rats (BM 100 ± 3 g), 42 rats each, were used in three 21d consecutive experiments. The animals were fed hypercholesterolemic (1% cholesterol) diets (Pisulewski et al. 2002), formulated with increasing amounts of total dietary fibre (Exp.1: control vs. whole grain 2, 4, 6%; Exp.2: control vs. flour 1, 2, 3%; Exp.3: control vs. bran 2, 4, 6%). The animals were bled to determine serum lipid peroxides using the Kamiya Biomedical assay kit (no CC- 004). Processing of oat grain (covered and naked forms) leads to substantial losses of total polyphenols as indicated by their highest concentration in bran. Consequently, bran showed the highest RSA (%) values. At the same time, the flour fraction with a relatively low content of total polyphenols and related low RSA (%) values was most efficient in reducing serum lipid peroxides in hypercholesterolemic rats. Pekarinen, S.S., et al. 1999. Journal of Agricultural and Food Chemistry 47: 3036-3043; Pisulewski, P.M. et al. 2002. Polish Journal of Food and Nutrition Sciences 52: 63-66.