Selection for partial resistance to oat crown rust in two recurrent selection populations: a path analysis
Pacheco, Marcelo Teixeira; Stuthman, Deon D.; Miller-Garvin, Jill (2004)
---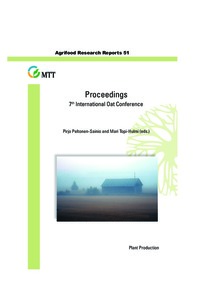 Pacheco, Marcelo Teixeira
Stuthman, Deon D.
Miller-Garvin, Jill
Julkaisusarja
Agrifood Research ReportsMaa- ja elintarviketalous
Numero
51
Sivut
s. 116
MTT
2004
Kuvaus
v
ok
Myynti MTT tietopalvelut
Tiivistelmä
Crown rust (Puccinia coronata) is the most devastating and widespread disease on oats (Avena sativa). Race specific resistance, conferring complete resistance, has proven to be nondurable. Partial resistance has been proposed as a more durable type of resistance. The objective of this work, which is part of a thesis (Pacheco, 2004), was to determine through path analysis which traits were associated with partial resistance to oat crown rust selected in two recurrent selection populations. The two studied recurrent selection populations are subpopulations derived from the same base population, started in 1968 as a closed system selected for grain yield. A subpopulation was opened twice, in 1988-1989, with introgression of four oat cultivars. Since 1996, six cycles of selection for partial resistance to crown rust were applied on the closed system rust and four cycles on the three-way cross system - rust . All selected parents from each population, and each selection cycle, were evaluated in two locations, in hill plots, sown with 30 seeds/hill, replicated four times. Path coefficient analysis revealed that later heading dates were associated with greater partial resistance, especially in the closed system, mainly because of an indirect effect via a longer time to reach 33% of maximum severity (T33-maxsev), which tended to reduce the maximum severity. In the three-way cross system later heading dates also resulted in longer epidemic durations, leading to an increase in the amount of disease in the end of the rust epidemic comparing to genotypes with shorter epidemic duration. Plant height seems to not be associated with partial resistance. Selection of partial resistant genotypes should be based on both AUDPC and maximum severity values and very late flowering genotypes should be avoided. Pacheco, M.T. 2004. Selection for resistance to oat crown rust in two recurrent selection populations. 133 p. Ph.D. Thesis.