Quantifying in situ phenotypic variability in the hydraulic properties of four tree species across their distribution range in Europe
González-Muñoz, N.; Sterck, F.; Torres-Ruiz, J.M.; Petit, G.; Cochard, H.; von Arx, G.; Lintunen, A.; Caldeira, M.C.; Capdeville, G.; Copini, P.; Gebauer, R.; Grönlund, L.; Hölttä, T.; Lobo-do-Vale, R.; Peltoniemi, M.; Stritih, A.; Urban, J.; Delzon, S. (2018)
---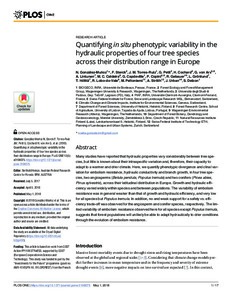 González-Muñoz, N.
Sterck, F.
Torres-Ruiz, J.M.
Petit, G.
Cochard, H.
von Arx, G.
Lintunen, A.
Caldeira, M.C.
Capdeville, G.
Copini, P.
Gebauer, R.
Grönlund, L.
Hölttä, T.
Lobo-do-Vale, R.
Peltoniemi, M.
Stritih, A.
Urban, J.
Delzon, S.
Public Library of Science
2018
by
http://journals.plos.org/plosone/article?id=10.1371/journal.pone.0172004
This is an open access article distributed under the terms of the Creative Commons Attribution License, which permits unrestricted use, distribution, and reproduction in any medium, provided the original author and source are credited.