Wood extractives of Finnish pine, spruce and birch – availability and optimal sources of compounds
Routa, Johanna; Brännström, Hanna; Anttila, Perttu; Mäkinen, Marko; Jänis, Janne; Asikainen, Antti (2017)
---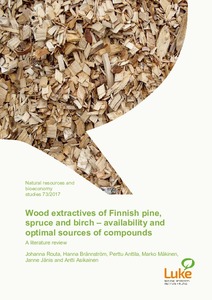 Routa, Johanna
Brännström, Hanna
Anttila, Perttu
Mäkinen, Marko
Jänis, Janne
Asikainen, Antti
Julkaisusarja
Natural resources and bioeconomy studies
Numero
73/2017
Sivut
55 p.
Luonnonvarakeskus, Luke
2017
Julkaisun pysyvä osoite on
http://urn.fi/URN:ISBN:978-952-326-495-3
Tiivistelmä
Forest-based biomass is one of the main sources of energy and feedstock for industrial production of bio-materials, bio-chemicals, bio-fuels, and other novel bio-refinery products in Finland. Apart from its main chemical constituents (cellulose, hemicellulose and lignin), wood also contains a wide variety of low molecular mass compounds known as extractives. These compounds can be separated from insoluble wood constituents by simple solvent extraction using polar or non-polar solvents. The aim of enhancing efficiency in the utilization of feedstock through product diversification and improved recovery has led to an increased interest in studying individual chemical components of wood. In particular, extractive compounds provide potential functionalities for several types of industrial chemicals and well-being and health products for consumers.

The extractives content within a tree and between trees in the same stand is not uniform and may also vary according to the age of the trees, the season, the site and provenance. Differences in the amounts of extractives from one geographic location to the next can be found, but the differ-ences between plots and parts of a single tree are clearer.

The effects of different factors (e.g. location, the part of the tree, age, the site type, time of har-vesting, or storage time) on the quantity of extractives have been well studied, but no review sum-marizing the effects of the aforementioned parameters on individual extractive compounds exists. A comprehensive review (or a set of more detailed summaries)concerning the extractive compositions of the overall tree biomass (incl. not only the stem, but also the bark, foliage, and stump-root sys-tem) of most common Finnish industrial wood species has not been available until now. Often scien-tific articles are concentrated on studying certain parts of trees, while some examine the geographic origins or site, or they might focus on even more specific issues such as certain groups of compounds in certain parts of the tree. In addition, the study material in some studies is very limited. In this re-port the results of the studies on extractives of Norway spruce, Scots pine, and silver and white birch have been summarized to facilitate the identification of the best suitable biomass assortments for sourcing future biorefineries and their production lines.


Metsäbiomassa on yksi biomateriaalien, biokemikaalien ja muiden uusien biotuotteiden sekä bio-energian pääraaka-aineista. Pääosa metsäbiomassasta koostuu erilaisesta puuaineksesta. Puussa on sen pääkomponenttien (selluloosa, hemiselluloosa ja ligniini) lisäksi erilaisia pienimolekyylisiä uuteai-neita, jotka voidaan nimensä mukaisesti erottaa puusta uuttamalla. Nykyisin metsäbiomassan hyö-dyntämisastetta pyritään kasvattamaan ja käyttöä monipuolistamaan, minkä vuoksi yksittäisiin uu-teaineyhdisteisiin kohdistuva kiinnostus lisääntyy. Näitä uuteaineyhdisteitä voidaan hyödyntää erityi-sesti lähtöaineina hyvinvointi- ja terveystuotteiden ja erilaisten teollisuuskemikaalien valmistuksessa.

Uuteaineiden koostumus ja määrä puun sisällä ja puuyksilöiden välillä vaihtelee runsaasti, ja li-säksi puun ikä, korjuuajankohta, geneettinen alkuperä ja kasvupaikka vaikuttavat uuteaineiden mää-rään. Uuteaineiden määrä vaihtelee maantieteellisen sijainnin mukaan, mutta erot ovat paljon sel-vemmät puun eri osien välillä ja yksittäisten metsikköjen välillä.

Eri tekijöiden vaikutusta uuteaineiden määrään on tutkittu paljon, mutta yhteenvetoa näiden tekijöi-den vaikutuksesta ei ole tehty. Kattavia tai yksityiskohtaisia yhteenvetoja koskien uuteaineiden mää-riä puun eri osissa (ei vain runkopuussa, vaan myös kuoressa, lehvästössä, kantopuussa ja juurissa) ei ole tehty yleisimmillä suomalaisilla puulajeilla. Tieteelliset artikkelit ovat usein keskittyneet tiettyyn puun osaan, tai yhteen tiettyyn yhdisteryhmään tietyssä osassa puuta. Lisäksi tutkitut aineistot ovat olleet usein pieniä. Tämä raportti on yhteenveto kuusen, männyn ja koivun uuteaineiden tutkimustu-loksista. Sen tulosten toivotaan edesauttavan biojalostukseen ja sen prosesseihin parhaiten soveltu-vien biomassaositteiden tunnistamisessa.