Genomic sequence of 'Candidatus Liberibacter solanacearum' haplotype C and its comparison with haplotype A and B genomes
Wang, J.; Haapalainen, M.; Schott, Th.; Thompson, S. M.; Smith, Gr. R.; Nissinen, Anne I.; Pirhonen, M. (2017)
---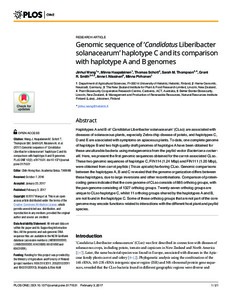 Wang, J.
Haapalainen, M.
Schott, Th.
Thompson, S. M.
Smith, Gr. R.
Nissinen, Anne I.
Pirhonen, M.
Julkaisusarja
PLoS ONE
Volyymi
12
Numero
2
Sivut
21 p
Public Library of Science
2017
by
http://journals.plos.org/plosone/s/licenses-and-copyright
Copyright: © 2017 Wang et al. This is an open access article distributed under the terms of the Creative Commons Attribution License, which permits unrestricted use, distribution, and reproduction in any medium, provided the original author and source are credited.