Spatio-temporal dynamics of a fish predator: Density-dependent and hydrographic effects on Baltic Sea cod population
Bartolino, V.; Tian, H.; Bergström, U.; Jounela, Pekka; Aro, E.; Dieterich, Chr.; Meier, H. E. M.; Cardinale, M.; Bland, B.; Casini, M. (2017)
---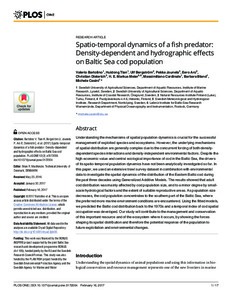 Bartolino, V.
Tian, H.
Bergström, U.
Jounela, Pekka
Aro, E.
Dieterich, Chr.
Meier, H. E. M.
Cardinale, M.
Bland, B.
Casini, M.
Public Library of Science
2017
by
http://journals.plos.org/plosone/s/licenses-and-copyright
Copyright: © 2017 Bartolino et al. This is an open access article distributed under the terms of the Creative Commons Attribution License, which permits unrestricted use, distribution, and reproduction in any medium, provided the original author and source are credited.