Metatranscriptomics reveals the active bacterial and eukaryotic fibrolytic communities in the rumen of dairy cow fed a mixed diet
Comtet-Marre, S.; Parisot, N.; Lepercq, P.; Chaucheyras-Durand, Fr.; Mosoni, P.; Peyretaillade, E.; Bayat, Ali R.; Shingfield, K. J.; Peyret, P.; Forano, E. (2017)
---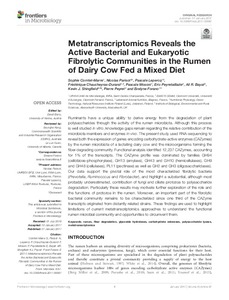 Comtet-Marre, S.
Parisot, N.
Lepercq, P.
Chaucheyras-Durand, Fr.
Mosoni, P.
Peyretaillade, E.
Bayat, Ali R.
Shingfield, K. J.
Peyret, P.
Forano, E.
Julkaisusarja
Frontiers in Microbiology
Volyymi
8
Sivut
13 p
Frontiers
2017
by
http://journal.frontiersin.org/journal/microbiology#about
Under the Frontiers Conditions for Website Use and the Frontiers General Conditions for Authors, authors of articles published in Frontiers journals retain copyright on their articles, except for any third-party images and other materials added by Frontiers, which are subject to copyright of their respective owners. Authors are therefore free to disseminate and re-publish their articles, subject to any requirements of third-party copyright owners and subject to the original publication being fully cited.