Individual tree detection and classification with UAV-based photogrammetric point clouds and hyperspectral imaging
Nevalainen, Olli; Honkavaara, Eija; Tuominen, Sakari; Viljanen, Niko; Hakala, Teemu; Yu, Xiaowei; Hyyppä, Juha; Saari, Heikki; Pölönen, Ilkka; Imai, Nilton N.; Tommaselli, Antonio M. G. (2017)
---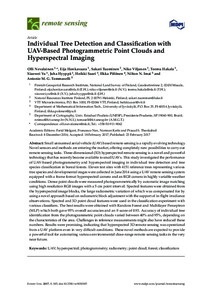 Nevalainen, Olli
Honkavaara, Eija
Tuominen, Sakari
Viljanen, Niko
Hakala, Teemu
Yu, Xiaowei
Hyyppä, Juha
Saari, Heikki
Pölönen, Ilkka
Imai, Nilton N.
Tommaselli, Antonio M. G.
Julkaisusarja
Remote Sensing
Volyymi
9
Numero
3
Sivut
34 p
MDPI
2017
by
http://www.mdpi.com/about/openaccess
All articles published by MDPI are made immediately available worldwide under an open access license. This means: everyone has free and unlimited access to the full-text of all articles published in MDPI journals, and everyone is free to re-use the published material if proper accreditation/citation of the original publication is given. open access publication is supported by the authors' institutes or research funding agencies by payment of a comparatively low Article Processing Charge (APC) for accepted articles.