Patterns of gene flow and selection across multiple species of Acrocephalus warblers: footprints of parallel selection on the Z chromosome
Reifova, R.; Majerova, V.; Reif, J.; Ahola, Markus; Lindholm, A.; Prochazka, P. (2016)
---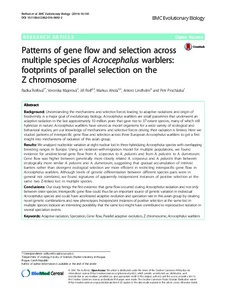 Reifova, R.
Majerova, V.
Reif, J.
Ahola, Markus
Lindholm, A.
Prochazka, P.
Julkaisusarja
BMC Evolutionary Biology
Volyymi
16
Sivut
12 p
BioMed Central
2016
by
http://bmcevolbiol.biomedcentral.com/about
All articles published by BMC Evolutionary Biology are made freely and permanently accessible online immediately upon publication, without subscription charges or registration barriers. Further information about open access can be found here. As authors of articles published in BMC Evolutionary Biology you are the copyright holders of your article and have granted to any third party, in advance and in perpetuity, the right to use, reproduce or disseminate your article, according to the BioMed Central license agreement.