Biomonitoring of selected persistent organic pollutants (PCDD/Fs, PCBs and PBDEs) in Finnish and Russian terrestrial and aquatic animal species
Holma-Suutari, A.; Ruokojärvi, P.; Komarov, A. A.; Makarov, D. A.; Ovcharenko, V. V.; Panin, A. N.; Kiviranta, H.; Laaksonen, S.; Nieminen, M.; Viluksela, M.; Hallikainen, A. (2016)
---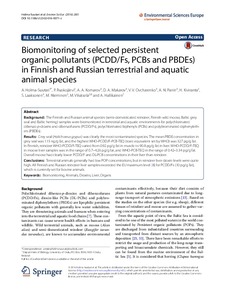 Holma-Suutari, A.
Ruokojärvi, P.
Komarov, A. A.
Makarov, D. A.
Ovcharenko, V. V.
Panin, A. N.
Kiviranta, H.
Laaksonen, S.
Nieminen, M.
Viluksela, M.
Hallikainen, A.
Julkaisusarja
Environmental Sciences Europe
Volyymi
28
Sivut
10 p
Springer
2016
by
https://www.springeropen.com/about/what-is-springeropen
Authors publishing with SpringerOpen retain the copyright to their work, licensing it under a Creative Commons license. Our SpringerOpen journals are published under the Creative Commons Attribution (CC BY) license which allows articles to be freely downloaded from the SpringerOpen website, and to be re-used and re-distributed without restriction, as long as the original work is correctly cited.