Forest planning in private forests in Finland, Iceland, Norway, Scotland and Sweden. Proceedings of ELAV seminar, 23-24 March 2006, Koli, Finland
---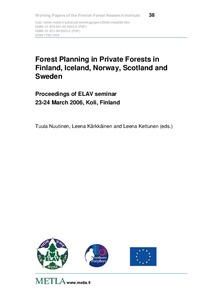 Toimittajat
Nuutinen, Tuula
Kärkkäinen, Leena
Kettunen, Leena
Julkaisusarja
Metlan työraporttejaWorking Papers of the Finnish Forest Research Institute
Numero
38
Sivut
88 p.
Finnish Forest Research Institute Metsäntutkimuslaitos
2006
Julkaisun pysyvä osoite on
http://urn.fi/URN:ISBN:978-951-40-2023-0
Tiivistelmä
ELAV (Enhancing Local Activity and Values from forest land through community-led strategic planning) is an international project, in which opportunities provided by forests are identified as well as ways to utilize these in order to increase the vitality of the rural communities. In March 2006, Metla organised a seminar on forest planning in the five ELAV countries (Finland, Iceland, Norway, Scotland and Sweden). In the seminar, representatives from European Forest Institute (EFI) and national institutes of ELAV countries gave an overview of forest resources, forest policy guiding the use of private forests as well as inventory and planning systems. In addition, methods and challenges related to interactive and collaborative forest planning were introduced during the seminar. Finally, ELAV partners presented the ideas and practical experiences related to their case study. This Working Paper contains presentations of the seminar.